Mini Gastrik Bypass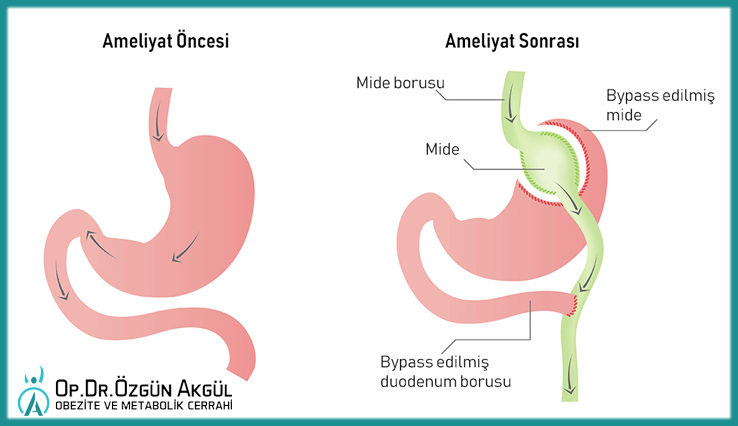 What is Mini Gastric Bypass?
Mini gastric bypass surgery is an operation in which the gastric is reduced and combined with the last part of the intestines. In this surgery, it is aimed for the food to pass quickly to the last part of the intestine. Thus, the absorption of sugar is reduced. Blood sugar is balanced.
How is Mini Gastric Bypass Performed?
Mini gastric bypass surgery is performed with a closed method. Pre-operative tests are completed. Endoscopy is performed before surgery. The stomach is cut into a thin long tube. The last part of the small intestine (ileum) is brought and combined with the stomach. The process takes an average of 1 hour. Postoperatively, patients are usually hospitalized for 2-3 nights. Then they can be discharged.
Who is suitable for mini gastric bypass?
Mini gastric bypass surgery is generally preferred in patients with diabetes. However, patient selection is important here. It is not a suitable surgical method for every diabetic patient. It can also be applied to those who regain weight after sleeve gastrectomy surgery. It can be preferred in those with advanced stage reflux. Or, mini gastric bypass can be performed at the patient's own request.
Is reversal possible after the mini gastric bypass?
In mini gastric bypass surgery, no part of the stomach is cut and removed as in sleeve gastrectomy surgery. If necessary, the transition between the stomach and the intestine can be canceled and the stomach can be restored. However, this is not an easy operation. It is can not be performed without a medical justification. Therefore, it is necessary to be careful when deciding on surgery.
How is Nutrition After Mini Gastric Bypass?
Nutrition program after mini gastric bypass is formed by our dietician. They calculate the essential nutrients that should be taken. Vitamin use is important in mini gastric bypass surgery, as there is an absorption restriction. Most patients use vitamins for life. Vitamin levels are checked with regular blood tests.
What is the Mini Gastric Bypass Price?
Mini gastric bypass surgery is an operation that requires experience and special devices. The cost of the operation varies according to the hospital where the operation will be performed, the materials used and the experience of the surgical team. You can contact us for detailed information.